First an announcement for the Dutch viewers.
Bos baden op zondag  24 februari, 17 maart, 7 april, 5 mei, 26 mei, 23 juni, 7 juli, 28 juli 2019 van 10.00 uur tot 12.00 uur.
Vertrek vanaf de parkeerplaats :
Boscafé 't Hijgend Hert'
Harles 23
6294 NG Vijlen
Zoals gebruikelijk vraag ik een bijdrage van € 5,= per persoon. Aanmelden mag. Stuur een e-mail naar Paul@paulsbuitencoaching.com en vermeld het aantal personen.
Secrets in the forest.
The forest is a nice place to enjoy fresh air and the overwhelming abundance of positive energy. The forest does not judge and will wait patiently until you leave her again.
Usually my blogs are about the benefits of walking through the forest. How healthy it is to walk through the forest or in nature. The definition of walking is not so important to me. When I go for a walk, it is possible that I cover a considerable number of kilometers under my shoe soles, but it may just be that I sit down in the woods in peace and quiet and enjoy being in the forest.
Not everyone has a forest nearby and then being in nature is the highest possible. That is not a drama at all. I can also enjoy the beach, the dunes, polder landscape or fields. Being outside is the most important thing. Sitting on the edge of a field also has a very beneficial effect on the body.
The photo.
The 30ste December 2018 was the title of my blog: "Remember". From that day I walked with a note and pebble in my trouser pocket to find a nice memorial spot for two lovely people who suddenly died during their work of the consequences of a dramatic car accident. I will just recall the two lovely people in your memory.
Alexandra Brandes and her colleague Madelon Daamen were on their way to a client. Two sweet people suddenly leave. I have the photo from Brabants Dagblad. Left Alexandra and right Madelon.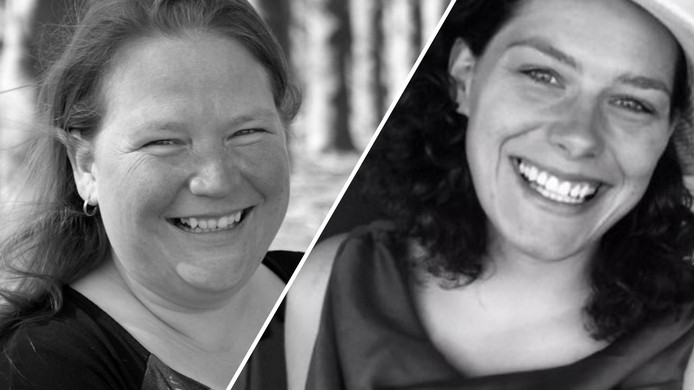 Last Sunday I have entrusted the letter with the names of Alexandra and Madelon to a tree. Surrounded by the ephemeral snow, the note is laid with stone in a tree hollow in the forest. The forest will take good care of it. On January 6, 2019 in my blog: "Starting in 8 steps with forest baths" I call this the exercise of reciprocity. The tree and I have given each other something.
Secrets?
More often I come across secrets in the forest. Ashes of deceased persons, notes, artwork, stacked stones, you name it. You have to pay attention to it. As long as they are not plastic or other polluting things, I think these kind of forest secrets are beautiful.
I can sit down and think of everything I could think about what it could be, but it remains a secret. Usually I walk with respect. In this way the forest will continue to respect life with respect. The living beings in the forest also continue their lives.
Now this story is no longer a secret, but if somebody would find the note with the faded names in a while, it will remain a secret. Perhaps prompting an imaginary story.
Those who pay attention to the environment will also more often recognize changes in the landscape. The story is sometimes gruesome. The forest also has secrets that have not yet been revealed or that are neatly covered by the forest. Crimes, battlefields, slaughter, and so on. Covered and therefore almost invisible.
I am thinking of the landscape changes around the trenches of Ypres in Belgium. Still there are remains of death people found of a cruel war. Sometimes the landscape is dotted with pits and hills. Places where atrocities took place during warfare.
In more recent history, for example, Hürtgenwald. When I walk in the Eifel I encounter landscapes that have changed in the last world war. Here too, the forests have secrets that may never be revealed. The secrets in the forest are often covered by forest land and many dead are left there without ever being found.
Every piece of landscape has her secrets that will never be revealed. Perhaps you will honor the secret by walking there. If you find an unnatural change in the landscape, then you can start your own imaginary story. Sometimes knowing is too gruesome for us to think of.
The forest.
The more I read and learn about the forest and nature, the more secrets remains. I also do not have the answer to all questions. And I can think of quite a few questions for the forest. However, the forest will be there as it is. Not more beautiful and not uglier. Just forest. The secrets remain secrets. Forest remains forest.
As a "Forrest Mind Guide" in training, I learn how to use forest and nature for coaching. During the training for a walking coach, I made a start with this. It is nature with its forests, fields and bushes that have a healthy and beneficial effect on us humans.
If you would like to get acquainted with the beneficial effects of being in nature, please contact Paul@paulsbuitencoaching.com or fill in the contact form on paulsbuitencoaching. I also give forest baths or forrest mind trainings for groups.
The beauty of discovering the secret of the forest is that you can start again at any time of the day.